Fiberglass Swimming Pool Sand Filter Top Mount Type with Multi Port Valve
Product Details: Place of Origin:China Brand Name:YICHENG Certification:CE Model Number:DG-A series Payment & Shipping Terms: Minimum Order Quantity:one piece Price:negotiation Packaging Details:Carton Delivery Time:7-10 days Payment Terms:Ex-worked Supply Ability:100PCS/week Detailed...
Description
Product Details:
Place of Origin:China
Brand Name:YICHENG
Certification:CE
Model Number:DG-A series
Payment & Shipping Terms:
Minimum Order Quantity:one piece
Price:negotiation
Packaging Details:Carton
Delivery Time:7-10 days
Payment Terms:Ex-worked
Supply Ability:100PCS/week
Detailed Product Description
Plastic / Fiberglass Outdoor Swimming Pool Sand Filters For Pond Filtration System
Description:
Fiberglass sand filters Systems are constructed by the latest engineering technology. Fiberglass reinforced tank with unequaled strength and durability. These systems equipped with top-mount filter and centrifugal pump.
Fiberglass sand filters Systems are the most recommendable equipment for the application of swimming pool.
Product features:
* using food grade high density polyethylene (HDPE) material, corrosion resistance, safer, more environmentally friendly
* the body adopts fiberglass in outer, makes the body is stronger, more stable quality, can ensure that is not affected by the influence of the bad weather, can make the filter and stable operation for many years
* 6 multi-way valve, combines many functions in one, the only need to handle gently rotating can easily implement, operation more simple
* mixed color machine and line clip round base, allowed to rotate 360 degrees, ease of installation
* size optimization design, save the space machine installation and operation
This product is suitable for: small pool, home swimming pool, SPA pool, aquarium, waterscape fountain, etc
FEATURES:
Easy to Clean
Suitable for use with Automatic Pool Cleaners
High quality 6 position multi-port valve
Self-sealing barrel unions
Transparent lid for inspection of filtered water
Ring lock design for quick opening and closing, Thereby eliminating
The use of traditional screws
* Use only #20 white silica sand, size range 0.4-0.55mm.
Maximum working pressure: 2.5kg/cm² ; Maximum temperature: 50° C(122° F)
Model
Pipe size
Filter Area
Design flow
Sand weight
Tank volume
Tank weight
Valve volume
Valve weight
(inches)
m2
m3/h
0.5-0.8mm (kg)
m3
kg
m3
kg
DG350A
1.5
0.10
4.5
25
0.06
4.0
0.02
3
DG400A
1.5
0.13
6.5
34
0.09
5.0
0.02
3
DG450A
1.5
0.16
8.0
50
0.15
6.5
0.02
3
DG500A
1.5
0.23
11.5
80
0.20
9.2
0.02
3
DG650A
1.5
0.32
16.0
160
0.32
12.1
0.02
3
DG700A
1.5
0.40
20.0
220
0.42
17.0
0.02
3
Working pressure: 2.5kg/cm2
Testing pressure: 4kg/cm3
Maximum temperature: 43 degree
Size of sand: 0.5-0.8mm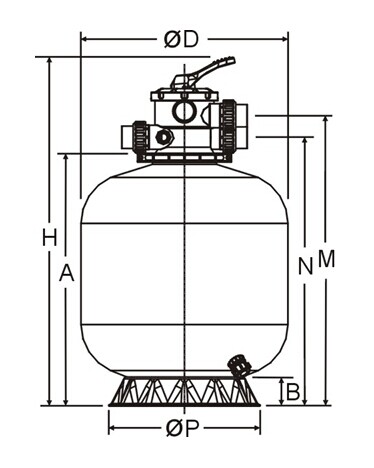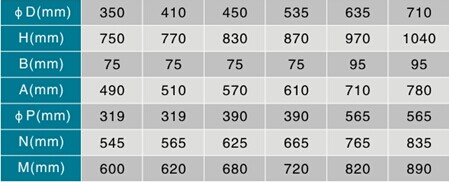 Related Products
Feedback